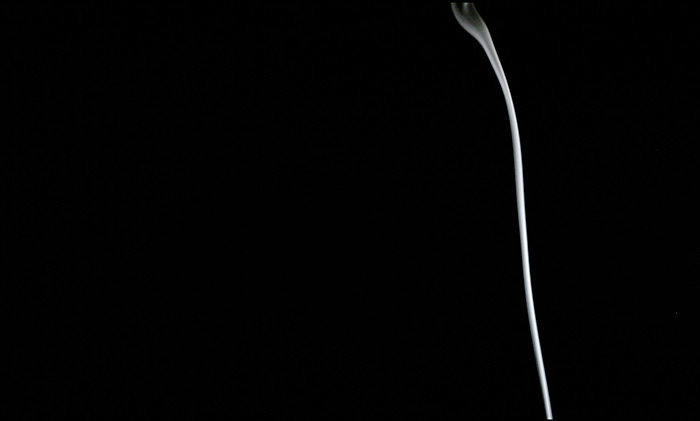 Memory In Metamorphosis (2013)
CLIP
Digital silent video
4'20", endless loop
Memory In Metamorphosis
operates at the edge of memory, where traces of our sensory experiences and recollections of our knowledge are dancing, engaging in various dialogues. Acting as a canvas of our interpretations, apparent impressions are reassembled whilst habituating new encounters and reflections.

Video still from 'The Ghost that Wasn't (2013)
The Ghost that Wasn't
(2013)
2-screen video installation with audio
8'00"
In
The Ghost that Wasn't
predominant cultural images and narratives from Japanese and Finnish ghost films around the 1950s are deconstructed and (re)framed to question how do cultural images, individual, communal and cultural memories influence us when we form our perception and give meanings to images.
Visible but silent, intangible yet tactile cultural cues are refocused to form new narratives and to investigate how values and beliefs are rooted within history and how they are passed on from one generation to the next.
On two screens events are simultaneously occurring across multitude of locations in mixtures of visual grammars, symbols, aesthetics and styles, operating in multidimensional, subconscious paradigms and conceptual frameworks. This challenges what is recognised as an acknowledged visual grammar, with its related aesthetics and an appropriate paradigm, and ultimately all answers remain as floating as the images.
Read the
Artist Statement
Smokescreen (2013)
CLIP
3-screen video projection with audio
3'40", looped
Smokescreen
aims to take the viewer on a journey where familiarities from two cultures conjoin. The resulting unfamiliar space challenges appearances and assumptions that might initially seem to be given. A mixture of symbols, aesthetics, visual grammars and cultural images aim to form new dialogues, interpretations and experiences.
A Journey Through
(2009)
Digital video with audio
4'58"
The inspiration for the piece is the traditional Japanese narrative scrolls which have a pictorial rather than narrative form. In
A Journey Through
, much like in the scrolls, the audience becomes a traveller and is offered the experience of moving through space and time. Multiple vanishing points are used to generate a sense of depth and perspective and the roads or paths are used to lead the viewer's eye into the work to give the sensation of being inside different worlds.
Created, photographed, directed and animated by Elina Moriya
Music by Underdogs: "Do You Believe"
Assistant animation by Ann Xiao, Yuki Kijima