Artist Statement:
Elina Moriya
is a Finnish and Japanese artist, photographer and visual researcher working with photography, video and installation. She was born in Japan, grew up in Finland and is currently based in London. She has always seen the creative process as a journey of questions, where the accent is put on the one who asks the questions, why and from which perspective.
Elina's practice incorporates multiple disciplines and blurs the boundaries between conceptual and documentary photography, a fine art and professional practice. Often researching the elements guiding perception and interpretations, assumptions that might seem self-evident, are challenged and manifested via unfamiliar visual outcomes. She is interested in encounters where various narratives overlap and integrate, resulting in the merging of new entities, and finding translations enabling dialogues with alternative paradigms. By presenting unexpected combinations of visuals, values or symbols, she likes to play with alternative realisations or explanations in the diversity of the values that might exist. This questions the predominant representations and what is accepted as a recognisable narrative, acknowledged visuals, appropriate aesthetics or correct paradigm.
Elina is currently conducting a practice-led doctoral degree with a funded studentship in London. Her research is investigating how multiple cultural knowledge systems (of Finland and Japan) and their integration, influence art creation and interpretations.
www.emoriya.com
Selected works: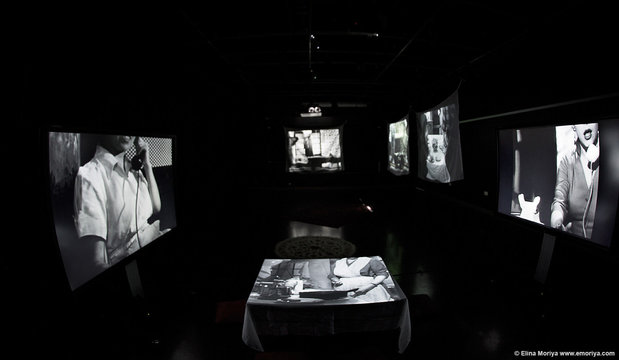 'At Home' // Kotona // 家'
(work in progress)
Video installation with 5 projections on 5 transparent screens, audio
Various dimensions and durations
In 'At Home' a narration is taking place simultaneously within multiple transparent screens. This enables the viewer to experience alternative perspectives of the visuals from two opposite sides. The work illuminates how the presence of two cultural families creates alternative meanings within each cultural environment.
'At Home' continues the research produced in 'trac(e)nomy' (2018) and creates a narrative spatial experience for the viewer.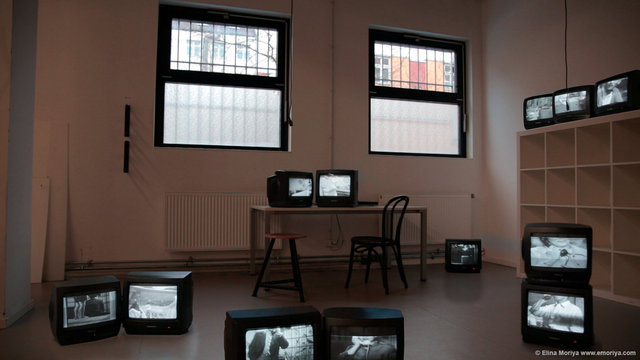 'trac(e)nomy'
(2018 – ongoing)
Video installation with 12 to 27 monitors, each with an audio
Various dimensions and durations
'trac(e)nomy' (2018) investigates cultural knowledge systems embedded in cinematic imagery. This taxonomy of cultural images is formed from research on selected Finnish and Japanese family drama films from 1930 to 1960. The films are chosen as representatives of quotidian family life and at the same time as reflections of their respective societies. The highlighted details in turn bring attention to the respective cultural elements images are constructed of. This interrogates the meaning we create through cultural contexts images may contain.
The paired TV screens create a visual dialogue between the two home cultures. This dialogue constantly moves from one culturally significant image to the other, as well as additionally generating a melange of the two. This enables a multitude of available meanings to arise, creating endless possibilities from both cultures that are equally conceptualised homes, as home and home.
The audience is invited to reflect on their own inherited cultural knowledge and the meanings they might create through their participation on this dialogue.
'Tales of the Transparent'
(2017)
Video installation with multiple projections on transparent screens
Various durations, looped
'Tales of the Transparent' investigates the formation of an image within perception. By moving away from the notions of a flat, framed photograph within the boundaries of a white gallery space, the surface of the image is challenged via material and spatial forms. The transparent encounter of the still and moving image, visible equally from both sides and complicated with the folded image surface, emphasises that a surface of the photograph is merely surface and we assign a meaning to it. Within the space of the installation, the meaning of the image changes as soon as the viewer moves around the space. With this setting the audience is able to generate their own interpretations of the work depending on their own cultural, social and individual history, enabling new encounters, both visual and conceptual, to emerge.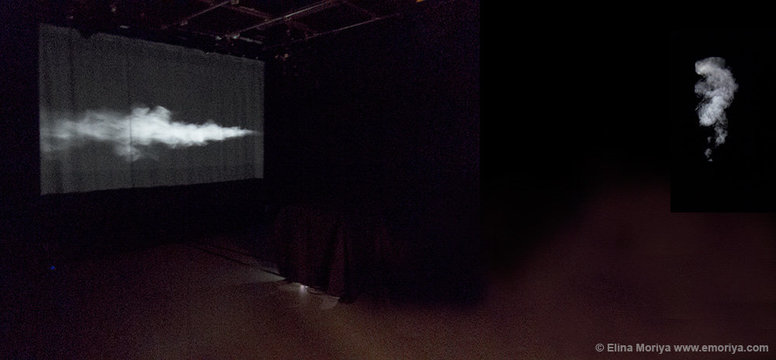 Mainichi Mundane // 毎日 Mundane
(2016)
Video installation with 1 projection, 1 monitor and audio
31'32"
2'24"
The essential interrogation in the 'Mainichi Mundane (2016)' is the presence of aesthetics in the everyday, shifting and integrating the meanings from Finland and Japan. This enquiry is addressing individual, social and cultural memory, in relation to sensory experiences, to question how the traces of our personal history are manifested in the present in our interpretations.
By presenting symbolic appearances that can be interpreted in multiple ways, possible assumptions that might have been born are reframed. In addition, sensory experiences in relation to memory influence interpretations of the piece, thus the meaning of the visual is constructed visually and sensually (aural and olfactory). However, ability to access the interpretative constructs is not essential, although doing so might shift the reading of the aesthetic to the mundane.

The Ghost that Wasn't
(2013)
2-screen video installation with audio
8'00"
In 'The Ghost that Wasn't' predominant cultural images and narratives from Japanese and Finnish ghost films around the 1950s are deconstructed and (re)framed to question how do cultural images, individual, communal and cultural memories influence us when we form our perception and give meanings to images.
Visible but silent, intangible yet tactile cultural cues are refocused to form new narratives and to investigate how values and beliefs are rooted within history and how they are passed on from one generation to the next.
On two screens events are simultaneously occurring across multitude of locations in mixtures of visual grammars, symbols, aesthetics and styles, operating in multidimensional, subconscious paradigms and conceptual frameworks. This challenges what is recognised as an acknowledged visual grammar, with its related aesthetics and an appropriate paradigm, and ultimately all answers remain as floating as the images.
Artist Statement
Memory In Metamorphosis (2013)
CLIP
Digital silent video
4'20", endless loop
'Memory In Metamorphosis' operates at the edge of memory, where traces of our sensory experiences and recollections of our knowledge are dancing, engaging in various dialogues. Acting as a canvas of our interpretations, apparent impressions are reassembled whilst habituating new encounters and reflections.
Smokescreen (2013)
CLIP
3-screen video projection with audio
3'40", looped
'Smokescreen' aims to take the viewer on a journey where familiarities from two cultures conjoin. The resulting unfamiliar space challenges appearances and assumptions that might initially seem to be given. A mixture of symbols, aesthetics, visual grammars and cultural images aim to form new dialogues, interpretations and experiences.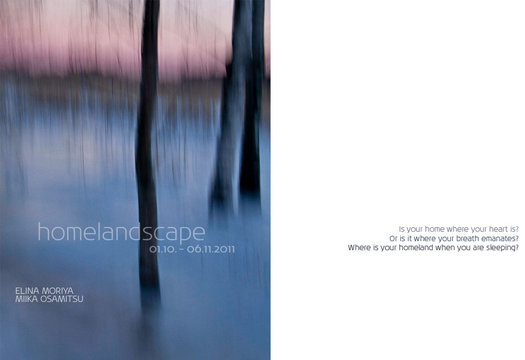 Homelandscape
(2011)
by Elina Moriya and Miika Osamitsu
Multi-sensory photography installation with text, scent and sound
Is your home where your heart is?
Or is it where your breath emanates?
Where is your homeland when you are sleeping?
The exhibition concentrates on the theme of home and the variety of ways in which we conceptualise and experience home and its counterpart homelessness.
This exhibition includes an essay on the subject. The philosophical posture is central to the collaboration and the series as a whole, so that visual, audible and textual layers are inseparable from each other. This is how the collaboration started in the first place, by a deep philosophical conversation in the midst of photographs and sounds, by a realisation that a home can vanish in an instant, by tsunami, by earthquake, by war, by phone call, by arising of a thought.
Press Release
Miika Osamitsu's Essay
Exhibition website
"A Journey Through"
(2009)
Digital video with audio
4'58"
The inspiration for the story is the traditional Japanese narrative scrolls which have a pictorial rather than narrative form. In my story, much like in the scrolls, the audience becomes a traveller and is offered the experience of moving through space and time. Multiple vanishing points are used to generate a sense of depth and perspective and the roads or paths are used to lead the viewer's eye into the work to give the sensation of being inside different worlds.
Created, photographed, directed and animated by Elina Moriya
Music by Underdogs: "Do You Believe"
Assistant animation by Ann Xiao, Yuki Kijima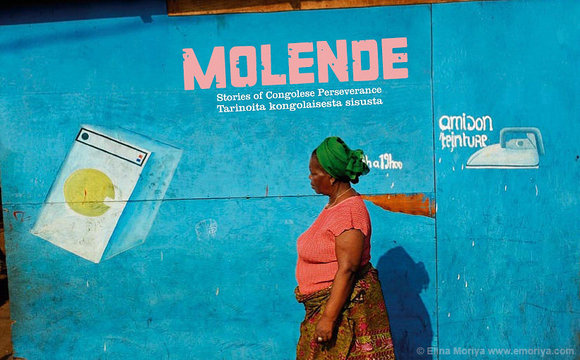 Molende – Stories of Congolese Perseverance
(2006)
Photography exhibition with sound
Photography book
Molende is Lingala (one of Congo's main languages) and means perseverance.
During the past decade the Republic of the Congo has been ravaged by civil war. Congolese people have had to focus on their own survival, which they have done with incredible zest and perseverance.
Molende is a photography exhibition and a book compiled of Elina Moriya's photographs. The captions in the book are put together from correspondence with Congolese pen friends. Molende shows the Congolese smile – and what is behind it.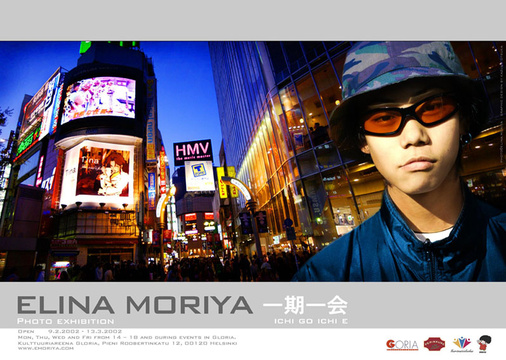 Ichi Go Ichi E
(2001)
Photography exhibition and installation
Ichi Go Ichi E is a series of photographs introducing casual passers-by from different corners of the world. They have been asked to pose spontaneously for the photograph on the street, and have been shot in natural light for just a few minutes. Afterwards the portraits have been combined to various background locations.
'Ichi Go Ichi E' is Japanese, and translates as 'once in a lifetime' in English highlighting the fact that an encounter might never re-occur.
Elina Moriya's
Homepage